Show Premise:
"Beyond the Usual" takes you on a journey of extraordinary experiences. It's a travel show produced and hosted by two-time National Emmy Award winning journalist Dayvee Sutton, who seeks out the most unique adventures, people, destinations and bucket-list experiences, and takes you along for the ride.
About the show:
Beyond the Usual is based on experiential travel - so it's not tourism, but targeted for the traveler. Dayvee shows you how to take in the tourist spots and make them your own, while daring to leave the resorts to experience more. Playing, eating and hearing the stories of the locals mixes adventure, solo travel for women and cultural immersion in this entertaining show.
Unique elements:
*Experiential travel mixing adventure and culture from a two-time Emmy Award winning journalist
*Guide on how to make tourist stops your own
*A mix of solo, group, women and black travel experiences
*Digital episode formats make it watchable on all screens
*Social media calls to action keep the conversation evergreen and growing, reaching new audiences each day
Where to watch:
We're streaming on over 100-million screens.

See below for our on-demand and streaming channel network distributors.
*if we're not featured on
the homepage of Tripsmart,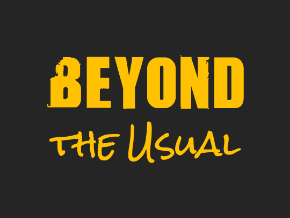 Amazon Prime Video ->
search "Beyond the Usual"
TripSmart ->
search shows "Beyond the Usual"